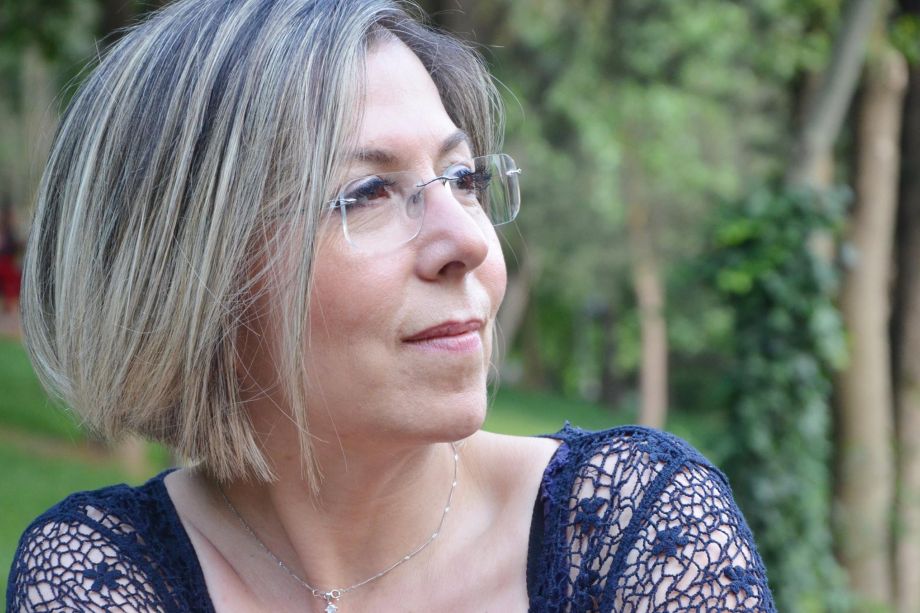 Wêje weke tekiliya navçandî
Suzan Samancı di 1962an de li Diyarbekirê hatiye dinyayê. Nivîskarî wek pîşeya xwe ya sereke hilbijart. Kitêba wê ya yekem a çîrokan bi navê "Eriyip Gidiyor Gece" hat weşandin.Bi helbestê dest bi edebiyatê kir, paşê dest bi nivîsandina kurteçîrok û romanan kir. Çîrokên wî bi gelek zimanan hatine wergerandin. Romanên wî yên tirkî bûne mijara lêkolînan. Ji sala 2015'an ve bi Kurdî kurteçîrok û romanan dinivîse.
Ew niha li Swîsreyê dijî.
Çand û kultur heta niha herçend bi pir awayan hatibin danasîn jî, di eslê xwe de ne tenê merheleyeke ku bi xwe bi xwe pêşdikeve, jê re hin şertên civakî divê. Mîras û bermayên çandî jî kombûna berhemên giranbuha ne ku ji destpêka mirovahiyê û vir ve ji bo avakirina jiyaneke baştir, di encama tekiliyên navmilletan de û bi afrandêriya 'Mirovan' derketiye holê.
Çand û huner jiyanê ji nû ve ava û watedar dike, tesîr li cihana hundurîn ya mirovan dike, ji aliyê şert û mercên giştî yên civakî ve tên tayîn kirin û dîsa wana derdixe ser rûyê avê. Çand giyana ax û demê ye. Ew tenê weke hêz û bedewiya bêdawî ya ku aliyên dizî yên rastiyê nişanê me dide.. Wêjeya ji bo armanca guherandina rastiyê ger rastiya civakê nişan bide, ev iksira bi efsûn eyvanê harmoniya rengîne ku dikare bibe wesîleya guherîneke bingehîn ya cîhanê.
Civak xwe bi xwe diafirîne û hebûna xwe bi vî awayî berdewam dike, çand û huner jî dîroka rastîn ya civakane. Li cem civakên ku çand û hunera wan pêsneketiye, hebûna kesayetiyên azad xuya nake. Civaka ku ji hunerê fem neke dibe esîrê jiyaneke xuyangî û guranî, di goristana zindiyan de, dijwarî û xirabiyê hildiberîne û bi vî awayî li pêşiya azadî û aştiyê dibe asteng.
Ji ber vê yekê tekiliyeke girîng ya zanebûna huner û demokrasiyê bi hev re heye. Dara hunerê jî li devereka azad hê bêtir mêwe dide. Çand û huner panjehra xirabî û fanatizmê ye.
Çand û Kultur hebûneke bêdawiye ku ji destpêka mirovahiyê û vir ve maye, di vê kûrahiyê de mîrasên pir medeniyet, çand û zimanan heye.
Ti çandek li derveyê tekiliyan bi serê xwe derneketiye holê. Wêjeya cihanî piştî sedsala 18an ket merheleyeke nû. Tê de mantalîteyek heye ku ew jî di navbera wêjeya netewan de tekilî datîne, xwedî fikreke gerdûniye, xwedî naverokeke însanî ye û hewl dide nirxên kesayetî û netewan bixe yê tevahiya mirovahiyê.
Ancax wêjeyeke bi vî awayî dikare bigêhêje wateya xwe ya rastîn û bibe yekîtiya cihêrengiya navnetewan. Nirxên cihêrengiya di nava çandekî de hê bêtir rega û alternatîf datîne pêşiya kesan. Ev cihêrengî jî, li ser esasê wekheviyê kirîterên edaletê bilindtir dike.
Huner herku pêşdikeve, çand û kultur jî çiqas hevûdu xwedî bikin û mezin bibin, sahaya azadiyê jî ewqas berfireh dibe. Huner li hemberî rêvebiriyên zalim û qedexekar dikare bibe xeyalek azadiyê ku mirovan berbi serkeftinê ve dibe û dibe waregeha azadiyê.
Çandên cihêreng dibe daristana pêşketina çandê. Her kultur hem ji hevû du hîm dibe hem jî xwe ji hev diparêze. Mirov dema tevgereke cudayê welatê xwe dibîne, dibe xwedî hesteke rexnegirî û dema çanda li derve nas dike, êdî bi çavekeî cuda li aydiyetên xwe dinêre.
Di cîhana nûjen de, pêdivî derketiye holê ku çand û kulturên cihêreng hevûdu nas bikin, di derbarê hev de bibin xwedî agahî, bi hev re bikevin nava tekiliyê, werin ruyê hev û herwiha lazim e hevûdu ronî bikin.
Di dawiyê de, dewlemendiyên çandî, imkanên erênî dide mirovan û kevneşopiyên demokratîk bi pês dixe. Wêje şekil dide qedera civakî û ferdî, ji bo hevfemkirin û li hevkirinê bingeh amade dike. Dema ku dibêjim Femkirin û wêje şert datînin pêsiya hev, dixwazim wê gotina meşhûr ya Albert Camus bibîrbînim. 'Femkirin pêkanîna yekîtiyê ye.' Di pişt femkirinê de, zanebûneke bilind, tolerans û empatî heye.
Dema civakekê hestên xwe wenda bike yan jî hestên wê yên manewî kêm bibin ev felaketeke mezine. Bêhesî û neşiyarî tê wateya miyopiya civakî. Mirov ku hebûna herî bi hêz ya cîhanê ye, çiqas xwedî mafe ku van bedewî û berhemên xwe serû bin bike?
Tista ku herî zêde hêz dide ziman, ol û çandên ku ji aliyê gerdûn û mirovahiyê ve hatine afirandin bêguman huner û wêje ne.
Dema tînim ziman ku Wêje û hunera Kurdî di nava xwe de zanebûneke hevbeş derdixin meydanê, helbet li ser edebiyat û hunera Kurdî jî pir tişt dikare were gotin.
Lê ez dixwazim bi kurtasî bala we bikisînim ser vî aliyê meselê: Naveroka wêje û çîrokên Kurdî bi dîroka gelê Kurd re ji nêz ve têkildar e. Sîstema antîdemokratîk ya li Tirkiyê herçend xwestibe mafên çandî, ziman û nasnama Kurdî red bike û wan asîmîle bike jî, di vê projeya xwe de bi serneketiye."Wêje û zimanê Kurdî" digel van astengiyan giran-giran bipêşketiye.
Pêşketina çand û ziman jî girêdayî asteya demokrasi û sîstema wê dewletê ye. Tekiliya devkî ya bi qisedan, rastiya bingehîn ya zimane. Ew Kurdên ku bi wan îsyan û serîhildanên xwe di nava rûpelên bi êş yên dîrokê de cîh girtine, ji edebiyata nivîskî dûr bûn. Sedemê wê yê bingehîn ew e ku derfetên wan yên xwendin û nivîsandinê çênebûne. Lewma jî çanda wan ya civakî û edebiyata wan ya devkî gelekî dewlemend bûye.
Zordestiyên li Tirkiyê û mudaxaleyên eskerî her çend di nava rûpelên reş yên dîrokê de cîh girtibin jî, bêhemdê xwe, fayda wan hinek ji pêşketina zimanê Kurdî re jî çêbûye. Kurdên ku neçar mane derkevin derveyê welêt, bi taybetî jî li Swedê bingeheke baş ya Kurdî saz kirine. "Ekola Swedê" bi îmkan û derfetên dewleta Swêdê, di pêşketina zimanê Kurdî de roleke girîng leyistiye.
Di dema Osmaniyan de, ji ber ku li ser zimanê Kurdî zordestiyeke taybetî tine bû, kêm be jî weke zimanê nivîsandin û perwerdê hatiye bikaranîn. Lewma medreseyên olî ji pêşketina Kurdan re, rê vekirine. Piştî "şerê yekem yê cîhanê" hat xwestin ku medrese werin girtin û bi duruşmeya, 'yek netew, yek ziman û yek al' bibin perçeyek Ewropayê (!) Di wan deman de, kilasikên Kurdî yên bi tîpên Erebî hatin qedexekirin û xwendin û nivîsandina bi van tîpan gelek zehmet bû. Di dema nû de jî ti berhemek nehat derxistin ji ber ku li ser zimanê Kurdî zordestiyên mezin hebûn. Bêşik (bêguman) ziman tenê bi nivîsandin û axaftinê dikare bi pêşkeve.
Dîroka roman û çîrokên Kurdî nû ye. Ev êş û elema Kurdan, ji bo xwe bide nivîsandin îro li ber derî ye. Kî dizane wê çi, bi çi rengî were nivîsandin. Hunera çîroka Kurdî di salên 1920an de bi gewde dibe. Ber bi sedsala 19.an di nivîsandina raste-rast de pêşketineke mezin xuya dike. Pêşketina çand û zimanê Kurdî û herwiha dewlemendbûna wêjeya Kurdî raste-rast girêdayî serxwebûn û tekoşîna siyasî ya Kurdane.
Gelo Pirtûkên pîroz Tewrat, Încîl û Quran ji aliyek ve ne nûmûneyên destpêkê yên edebî ne? Gelo bi hezaran çîrokên wê, ji me re nebûne xeyal, tirs, evîn û hêvî?. Gelo yên ku em mezin û xwedî kirin, ne rastiya destanwarî ya Homeros û Heredot bû? Romanên me di hêvî û evîna îlahî ya Don Kîşot de li hev zêde nebûn? Dema ku em di berhemên Balzac, Stendhal, Proust, Flaubert de atmosfera Fransayê jiyan, em nebûn hevparê evîn, xizanî, reqabet û hirsên kesayetiyên ku wê civakê afirandiyê? Ma em hêjî bi lehengên bi hêz yên Dostoyevskî re najîn?
Li Rusyaya Çehov û Şolohov em çiqas bûn rêwiyên rêyên dûr. Ma em tesîra şer ya li ser mirovan û jiyana wan ya wê demê ji romanên Hemingway, Henrich Böll, Stefan Zwaig û ji Tolstoy fêr nebûn?
Bi nivîsên Lawrence Durrell em ji buhrana entelektuel ya di atmosfera mistik ya Iskenderiyê de hayedar nabûn? Bi nivîsên Marquez, Fuentes, Faulkner û bi yên İnfante em nebûn şahidên rastiya cografyaya ku hîç nedîtibûn û negeriyabûn û em neyîniya nijadperestiyê, serîhildan û dengên hundurîn ji wan hîm nebûn?
Gelo me ji Nazım Hikmet berxwedan, hêvî û hembêzkirina gerdûnê nûmûne negirt û ji Yaşar Kemal aliyê din yê zulmê, êşê û di kela havînê de serîhildana li ser wê xaka wêrankirî hîn nebûn?
Ji bilî van dengên ku wate dane dîrokê, helbet hin dengên din jî hene. Ev deng ku hewl tê dayîn ji rastiya wan were bidûrxistin, were tirsandin û tine were hesibandin. Kesayetiyên girîng yên wêjeya Kurdî ku di deng û zimanên xwe de îsarar kirin Ehmedê Xanê, Feqiyê Teyran, Meleyê Cizirî, diviyabû nivîsên wan li têlên risiyayî neqelibe. Dewlemendiyên cihêreng yên di bingeha edebiyata kêmenetewan de û eşa ku nayê ziman rastiya hevpar ya tevahiya mirovahiyê ye. Rastî tên zanîn. Civak dema hestên xwe yên manewî wenda bikin, ziman û çandeke yekreng bixwazin ev felaketê tîne.
Wêje rêwitiyeke dûr û dirêje berbi ebediyetê ve. Ger rêwitiya dûr û dirêj mirovahî be di nava bêdawiyê de, ger çand û medeniyeta ku hatiye estetîzekirin nûjenî be, gelo di parastina ziman û çandên cihêreng de leyîstina roleke bi tesîr û erênî ne mecbûrî ye? Yê ku me ber bi azadî û rizgariyê ve dibe ne dijwarî û çek in lê bi fikreke aqilêselîm bilindbûna wêje û hunerê ye.